Description
Symphony Diet 12i 12L Air Cooler with Remote
Highlights
Tank Capacity (Litres) : Up to the brim: 12
Product Features : Cooling Capacity for room upto 28 cu mt / 1000 cu ft
Fully Functional Remote Control with 7 hour timer
Dust Filter / Mosquito Net for Odourless, Clean & Purified Air
High Quality & High Efficiency Aspen Honey com Pad
Powerful Air flow with Automatic Louvers movement for wider air flow
Dura Pump Technology for enhanced Pump Life
Tank Capacity of (upto brim-12 Liter)
Power Consumption 95 W( Equal to 1 Fan)
Multi Directional Castor Wheels for easy movement of cooler
Also works on Inverter Power
Ice Chamber for Additional Cooling
In-Built remote dock
SUPC: SDL042107372
Technical Specification
TECHNICAL SPECIFICATION
For rooms up to (cu mt / cu ft)
28 / 1000
Engg plastic blower / fan
Blower
Wattage 230V/50HZ
95
Tank capacity (up to the brim – L)
12
Remote control
Yes
Auto louver movement/Auto Swing
Yes
Mosquito net / dust filter
Yes
Cooling media
Honeycomb
EAN Code
8 9 0 1 7 9 1 1 0 0 4 0 0
In the Box
1 Unit Cooler, 1 Remote Control, 4 Unit castor wheels , User Manual/Warranty Card
Service Centre Number & Ways to book the Service/Complaints
3 Ways to book Service : i) Call Customer care at 07930130111 & book your service ii) SMS Name, City , Pincode & Product serial no 09510070111 to book your service iii) Login on www.Symphonylimited.com/Service & book your service.
Description
Bring home the power-packed Symphony Diet 12i and forget about the soaring temperatures. This tower cooler is super efficient so it will go easy on your energy bills, and it has the added convenience of being indoor and outdoor compatible. Even though it has powerful cooling and air throw, the motors are not noisy so you are guaranteed peace of mind as well. It is fitted with plastic blowers and can a cool a room of 28 cubic metres area space. The machine is also remote controlled. So do not hesitate in bringing this powerful machine home.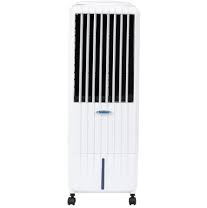 Cooling Capacity
The Symphony Diet 12i cooling tower can cool a room of 28 cubic meters area. It has a water tank capacity of 12 litres. It has a powerful 16 inch exhaust fan
Engineering Grade Plastic
The machine is built with durable, engineering grade ABS plastic.
Mosquito/Dust Filter
The machine comes equipped with a mosquito net and dust filter so you are assured fresh, cool and dust-free air at all times. This is especially effective when you are using this unit for outdoor gatherings and parties.
Cooling Media
The air cooler built with honeycomb technology which is high in efficiency. It has a powerful 16 inch blower fan which maximizes air flow reach and air throw.
Automatic Louver Movement
The unit is built to accommodate automatic louver movement.
Dura Pump Technology
This unit comes with dura pump technology to assure the long life of your machine's air pumps.
Powerful Air Throw
The Symphony Diet 12i air cooler is built to efficiently and optimally cool both indoor and outdoor spaces. Whether you put it inside your room for your personal comfort or on the lawn during outdoor gatherings, this machine is meant to guarantee you maximum comfort. The machine has an impressive air throw capacity can cool a space of 28 cubic metre measurements.
Ice Chamber
The machine is built with an ice pack chamber to maximize cooling for all environments.
Other Important Features
The unit measures 300 x 330 x 845 mm in dimensions and weighs 9.4 kilograms. It comes in a white colour and consumes minimum power and can run on inverter generators too. The unit is extremely energy efficient and consumes only up to 80 watts of power. It is remote controlled and comes with a 7 hour timer.