Product Description
Symphony SYM-DIET-22I 22L Air Cooler with Remote
Item Details
Highlights
100 % Original Product with Brand Warranty | 1 Year Warranty
For Rooms Up To 200 Sq.Ft/20.Sq.M.
Powerful Air Throw with Auto Swing
22 Litres/5 Gallons (US) Tank (Up To Brim)
High Efficiency Honeycomb Pad
Ice Chamber for Enhanced Cooling
Full Function Remote with 7 Hrs. Timer
SUPC: SDL219179222
Technical Specification
SPECIFICATION
Cooling area (m2 / ft2)
20 / 200
Air throw dist (m / ft)
11 / 36
Engg. Plastic Blower / Fan
Blower
Speed control
Three
Motor RPM
1400
Air delivery (m3 / hr / CFM)
1100 / 647
ELECTRICAL
Power Consumption
150 W at (220V / 60Hz)
Max. Current
0.80 A at (220V / 60Hz)
Water tank capacity
22 / 5 (Ltr./Gallons(US (upto brim)
Remote Control
Yes
Motorised Louvre movement
Automatic
Ice Chamber
Yes
Water inlet
Top/Back
Mosquito net/ Dust filter
Yes
Water level indicator
Yes
Cooling media
Honeycomb
Portability
Yes
Multi-directional wheels
Yes
Motor cover
Yes
Product Weight
8 Kgs
PRODUCT DIMENSION
Length (mm/inch)
300 / 12
Breadth (mm/inch)
330 / 13
Height (mm/inch)
895 / 35
CARTON DIMENSION
Length (mm/inch)
340 / 13
Breadth (mm/inch)
350 / 14
Height (mm/inch)
920 / 36
Description
The sweltering heat and humidity can really take a toll on you. If you wish for a cooler environment at home or office, then beat the heat with this Symphony 22i air cooler. Available at Snapdeal, at a reasonable price, the air cooler is perfect for cooling rooms that measure up to 42 metre cube.  It has an Engineered plastic blower, dust filter, mosquito net, Honeycomb cooling media, water tank with a capacity of 22 litres, an ice chamber and auto louver movement. It also has a remote and therefore, can be accessed from any corner of the room. It has a powerful motor and consumes very little electricity.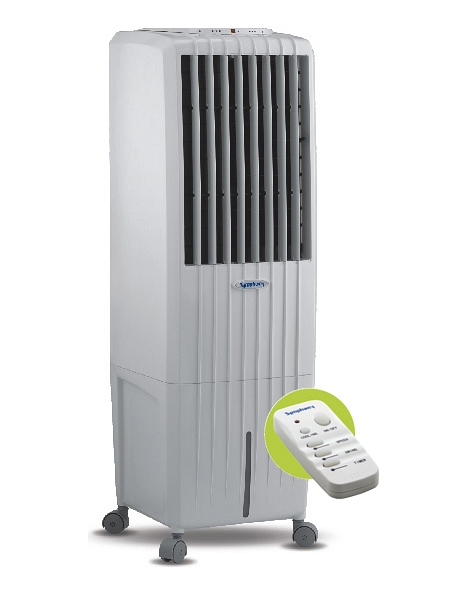 Cooling Capacity
The Symphony 22i air cooler has the capacity of cooling a room sized 42 metre cube. Therefore, this air cooler can be installed in a big room and is perfect for a big sitting room, hall or master bedroom.
180 mm Engineering Grade Plastic Blower
The air cooler has a 180 mm engineering grade plastic blower. Therefore, it is cools the room very well. The material of the blower is eco-friendly and safe to use.
3 Speed Control
The Symphony 22i air cooler has a 3 speed control. This speed controller helps you adjust the room temperature as per your needs and requirements.
Mosquito/Dust Filter
This air cooler from Symphony has both, a mosquito and dust filter.  The dust filter cleans the air that is circulated, providing you with fresh, cool air. The mosquito net makes your surroundings mosquito-free, thus, safer and cleaner.
Honeycomb Cooling Media
The cooling media this air cooler uses is Honeycomb pads. These pads are designed to provide a balanced cooling effect across the room. The pads a fitted at an angle, which provides an equal mixing of water and air and are also cross fluted.
Automatic Louver Movement
The Symphony 22i has an auto louver movement. The louver keeps away the dirt and dust from the inner cavity of the machine. This results in effective cooling.
Dura Pump Technology
The air cooler uses the Dura Pump technology. This pump helps maintain the longevity of the pump. This is extremely efficient.
Powerful Air Throw
The Symphony 22i air cooler has a very powerful air throw. It has an air delivery of 1100 m3/hour and the air throw distance is of around 11 metres. This helps cool the room much faster and more effectively.
Ice Chamber
This air cooler from Symphony has an ice chamber which helps boost and enhance the cooling of the room.
Other Important Features
This Symphony air cooler consumes only 150 W of power and is extremely energy-efficient. It has a water tank with a capacity of 22 litres that can be filled completely, to enjoy uninterrupted cool breeze.