Skullcandy Ink'd In Ear Headphone With Mic
Starting රු899.10 රු1,990.00 (-50%)
Description
Skullcandy Ink'd In Ear Headphone With Mic
Please note this product is a replica product. Actual product and features may differ from original.
Highlights
In-the ear design
Ergonomic design
Soft and comfortable ear buds
Supreme Sound design
Less than 0.1% THD
Flattened cable for style and durability
3.5 mm jack plug
General
Brand: Skull Candy
Color: Green
Type: In ear
Mic : Yes
Wireless : No
Jack : 3.5 mm
Jack diameter : 3.5mm
Cord Length : 130cm
Additional Features : Two sizes of silicone gel earbud sleeves for a perfect fit, In-ear design allows for passive noise isolation
Tangle Free Cord : Yes
Technical Details
Driver Size : 11
Frequency Range : 20 – 20000 hertz
Impedance : 16mm
Weight : 9 gram
Description
Overview
If you want to show your style and win an envious look from your friends then brand Skullcandy has unique and wonderful earplugs especially created for you. You may a sport enthusiastic or a rock star, you may believe in simplicity or make a trendy move then Skullcandy musical gadgets are just right to suit your mood and style.
If music is your weakness then Skullcandy INKD S2IKDY-102 in-ear earphones with mic are exactly for you. The vibrant earphone that is available at Snapdeal is loaded with all the qualities that you have been looking for your long enjoyable musical hours. It promises you zero fatigue and provide comforts to your ear lobes because of its comfy foam tips. It will foster you an amazing experience of audio quality that you have been longing for.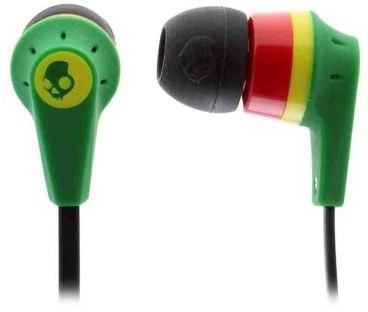 Wired
It has wire length of 130 cm to provide you with easy mobility. These green earphones understand your love for music. The tangle free cord ensures long lasting earphones so that it can foster long hours of rhythmic music.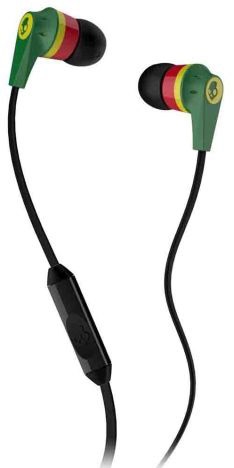 Smartphone Compatibility
Skullcandy INKD S2IKDY-102 in-ear earphones with mic have a jack diameter of 3.5mm give you smart compatibility with any of your smartphones. Be it a smartphone or your laptop it can be connected to all. You can receive and make calls after connecting these unique earphones to any of your smartphones.
Design
It is made in unique" in the ear design" and the soft and comfortable ear buds fosters warm and smooth vocal sound quality. The ergonomics best suits the anatomy of the ears and the quality of sound technology of Skullcandy INKD S2IKDY-102 in-ear earphones with mic gives you a wonderful experience as if you are listening to the music just standing next to the singer. These supreme sound design earphones are green in colour and designed after keeping the comfort of your ears in mind.
Audio Quality
The Skullcandy INKD S2IKDY-102 in-ear earphones with mic are a perfect mix of amazing technology rightly complimented with sophisticated design. With a frequency range of 20-20000Hz, these earphones will give you an experience of pure audio bliss. It performs according to your needs. It is loaded with powerful bass that lets you enjoy your favourite super hits with more effective sound.
Compatibility with TV, Tablet, laptop
These ergonomically designed earphones are easily compatible with modern gadgets of the present era. You can easily get and make calls once you connect it with your smartphones. It has track control play and pause button to help you get connected promptly.
Comfort of Use
The Skullcandy S2IKDY-102 earphones are comfortable to use and you can carry them along with you during your morning walks or whenever you want to break the monotonous of your busy life schedule. The Skullcandy earphones take care of your music love and provide you with "good to ears" music.
Microphone
Yes, the Skullcandy S2IKDY-102 earphones are fully equipped with a microphone so that you can easily make and receive calls without disconnecting your rhythm of music beats. Thanks to its music quality that provides hassle free communication.